Canton Termite and Pest Control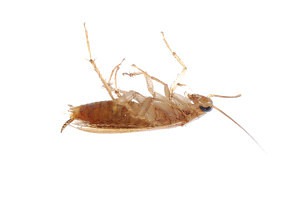 It's the season for German Cockroaches, and Canton Termite and Pest Control is here to help!
German Cockroaches pose a threat to your household by:
Bringing a host of infectious bacteria
 Damaging electronics to the point of causing fires
 Making homes smell
 Being a source of embarrassment when your house is visited by friends and family.
Here's some more specific reasons to rid yourself of German Cockroaches:
Infection and Disease: Cockroaches are associated with food poisoning, pneumonia, urinary tract infections, wound infections, conjunctivitis, gastroenteritis, gas gangrene, and even leprosy!
Damaging the home: You probably knew that cockroaches tend to procreate in small, hidden spaces in your walls, cabinets, and underneath floorboards, but did you know that they also like to hide in electronic equipment as well? Cockroaches are known to chew through wiring of televisions and computers, causing electrical fires, and if the equipment is not cleaned, then the bodies and excrements of cockroaches will corrode metal!
Smells and stains: Cockroaches and everything that they secrete will bring a well known, disgusting smell to the area around them. They always travel the same path when entering kitchens, cupboards, and other locations with food (again, an area they will spread infection in!). As a cockroach travels, it will stain the path that they take repeatedly, and cause irreversible ruination to that part of your floor, table, cabinet, or dishes.
If you have a problem with roaches…or any other pest… call or TEXT Canton Termite and Pest Control today at 770-479-1598 and ask for me, Tim McWhirter. I'll be happy to speak with you anytime.
Here to helping YOU live PEST FREE!
Tim
PS. Don't forget to ask about our FREE 58 Point Pest Analysis of your home or office.
We provide service throughout zip codes of (Canton)30115, 30114, (Waleska) 30183, and (Ball ground) 30107 and around these areas.
Exterminator in Canton Georgia – How to get rid of Roaches!