Does my household pest control cover termites?
Short Answer: No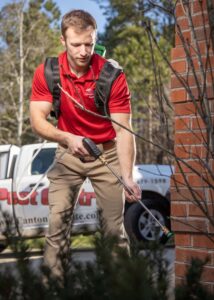 Long Answer: It's a bit complicated.
Termite infestations are unlike any other pest the homeowner may encounter. It is a common misconception that eradicating termites is similar to other insects such as roaches or ants. Termites are complicated and take knowledge and skill to successfully eradicate. It is important to remember that termite and pest control does not simply mean spraying the right product and instant success. Pest control is a lot more than just administering product around your home.
To begin with, WHERE the product is placed is just as important as WHAT product is placed. Bait systems, for example, attract the termites to the site in order to elicit feeding on the active bait and carry it back to the colony.
Repellant products do exactly what they sound like, repel. These products keep the pests away and work to form a barrier around the home. It is extremely important that these products are placed on the correct site for the best outcome to occur. That outcome is to keep your home safe.
Disastrous is not an exaggeration for products used incorrectly or placed in the incorrect location. As an example, if a repellant treatment is placed around the home but leaves an opening, a hole, then the pests can and likely will find the access point and get through. This creates a funneling effect as the insects find your home to escape the repellant product! The opposite of the expected and hoped-for outcome can occur in this situation.
In addition, it is vital to remember that not all products are effective against all types of pests. A bait system is created specifically for termites. Termites eat cellulosic, or wood-based, materials. The worker termite is on the lookout for this material and is attracted to the stations. But of course, the roach is not at all attracted to wood and would not be deterred by this product.
On the other hand, insect invaders like the roach or ant are efficiently eradicated by certain products that would not phase the termite. Knowledge and experience must be applied. We offer this in spades at Canton Termite and Pest Control. Whether you are in Canton, Cartersville, Woodstock, or any of the surrounding areas, we are here for you and the safety of your home.
To truly protect your home against household pests AND termites, you ideally need a comprehensive treatment plan where the same company handles both services. The coordination of treatment plans is the absolute best scenario for success in protecting your home. The products used for each pest should be carefully examined and work in harmony with one another. Interaction between products can cause the treatments to be less effective, wasting your money and delaying the correction of the problem. Finding a company that specializes in both areas of treatment is the very best plan for you as the homeowner.
So, can your household pest control service stop termites? Probably not, and that's a big issue. Termites are one of the most destructive invasive pests homeowners can deal with, and many a house has needed expensive and complex repairs due to internal termite damage.
The wisest precaution the homeowner can make is to prevent problems before they occur. Georgia definitely has no lack of termite population, and most people know termites are a definite possibility. If regular inspections and monitoring are performed, the possibility of infestation is much reduced. The frustration of dealing with a severe infestation can be intense as you deal with the expense and aggravation of treating what could have been prevented. So don't hesitate, call Canton Termite today for a free inspection.
Scheduling an inspection for termites and pests is easy. At Canton Termite and Pest Control, our neighbors in Canton, Cartersville, and Woodstock areas can rest assured that we have the experience and knowledge to help you care for your home. Our experts are here for you. From your first call into our office, you will be cared for as if you are family. Your hometown pest control service is just a call away.
After decades of service, our staff is highly trained to meet your pest needs. We offer termite inspections and treatments, household pest control, mosquito control, rodent control, and even wildlife management. Our comprehensive treatment plans ensure that no pest, no matter how tenacious, will gain an inch of ground in your home!
So don't wait, call us today before the unwanted guests come knocking at your house,
770-479-1598!
By: Tim
Will my household pest service cover Termites?