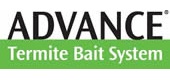 The industry's first generation bait systems brought a pioneering concept to the termite control market. They presented a new way to control termite colonies that was more effective and less invasive combined with a business model that significantly raised the value of termite control at the homeowner level. However, it soon became apparent that those first generation bait systems had a variety of challenges. These challenges affected their speed of control, ease of serviceability, customer satisfaction and most importantly created a non-invasive business model for most PMPs.
Now, with the Advance Termite Bait System, BASF offers a new generation bait system that addresses the challenges presented by first generation baits–effectively making our bait system a superior option to other of termite bait systems
.Components
Termite Bait Station (TBS)
Ultra low disturbance design means less termite abandonment of the station
Dual-stage interior design provides two unique food sources
Compressed Termite Bait II
With Tri-Annual Service Label
Used during baiting phase
Contains 124 grams compressed Puri-Cell bait matrix with .25% diflubenzuron
Containerized for ease of inspection
Termite Inspection Cartridge (TIC)
Used during monitoring phase
Contains 93 grams Puri-Cell monitoring matrix without active ingredient
Quick transfer from wooden termite monitoring base (TMB)
Promotes "harder hits"
Termite Monitoring Base (TMB)
Preferred wood species with horizontal grooves allow easy termite access
Designed for maximum wood to soil contact
Constructed with 63 grams of wood
Used as the aggregation point, where termites enter the station
Puri-Cell™ Compressed Cellulose Tablets
Uniquely preferred by termites
Orients termites upward in the station
When placed inside, the TIC keeps termites aggressively feeding until the TBC, also containing Puri-Cell is inserted
Produced from purified cellulose
Contains no wood resins, terpenes or lignins
Compressed to deliver more bait to the colony
Advance Concrete Bait Station (CBS)
For use where soil is inaccessible
Contains TIC and TMB
Cap sold separately
Quik-Lock™ Cap
Makes opening and closing the station quick and easy
Low-profile design for easy servicing
The Spider® Station Access Tool
Designed to open and close bait station, making a technician's job easier and more productive.
Station cover remains on tool during inspection for safety, speed and efficiency
Long-handle Spider extension aids in finding stations from a standing position, minimizing back strain.
Ergonomic Spider EH features an oversized handle and ergonomic design. It is light weight and made of high density durable plastic. Its rugged construction is proven in field tests and is preferred by technicians over the previous metal style handle. The Spider EH features an enhanced clean-out edge that helps take debris out of the station lid area and the "safety orange" color reduces the likelihood that the tool will be misplaced in the field.
Call Canton Termite and Pest Control today at 770-479-1598 for a FREE Pest Consultation and FREE Estimate!
Also, ask about our FREE 58 Point Pest Analysis of your home or office!
Canton Termite Bait System