Wildlife Control
Who moves in and refuses to pay rent? No, not college students!
I'll give you a hint…wildlife season is on the way, and so are the unwanted guests who may be checking every hidden entry point in your home even now.
September is here and so fall begins! Okay, okay, I know, Georgia heat doesn't follow a calendar, but we will optimistically say that cooler days are on the way.
As fall arrives, we begin thinking about pests and invaders that our Canton, Georgia, friends are likely to see around their homes. As the weather cools, the mice, rats, bats, squirrels, and other little skittering feet are actively searching for a new location to call home for the winter season. We want to help prevent your home from becoming their home!
Don't leave your family unprepared for wildlife season.
Prevention, prevention, prevention!! Now is the time to inspect your home for potential problems that could lead to wildlife infestation. You, as the homeowner, can and should do basic inspections on a regular basis to ensure your home is sealed well; however, many entry points should be assessed by a professional. This is because many access points are difficult to reach and could be dangerous for a homeowner. Also, a trained and experienced professional knows what the pests and wildlife are looking for in the first place. Canton Termite offers a free inspection that will give you peace of mind when it comes to protecting your home.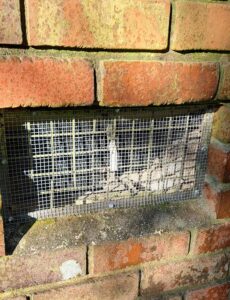 Knowledge is the first and foremost weapon in any homeowner's arsenal. Let's explore what exclusion means and why it is important to the north Georgia homeowner. First of all, consider why pests and wildlife make their way into your home. Food, water, and a comfy place to raise babies are all reasons your home may look like a 5-star hotel to the neighboring wildlife. And if the accommodations are readily accessible, well, you may just have a problem. Openings and gaps are flashing welcome signs to rodents, pests, and other wildlife. The typical entry points are rooflines, chimney caps, supply lines, plumbing, and condensation lines, dryer and gable vents, cracks in the foundation, garage and other doors, and windows. Obviously, some of the gaps and openings are going to be located in hard-to-reach, higher parts of your home. Caution is greatly advised, and a professional is recommended when trying to inspect dangerous areas.
Crevices ¼ of an inch high and circular openings around ⅜ of an inch are plenty big enough to allow mice to enter your home. Rats are a little bigger but can get in a ½-inch opening and ¾-inch wide gap. Rodents will chew around areas they are using to gain entrance into a structure. So chew marks are a sign that someone has already found you, and you better believe they aren't keeping it quiet! Bats can squeeze through holes the size of a quarter.
Another access point is overgrown vegetation. Plants and trees can provide a bridge from the ground to your home. Ideally, limbs and plants should be 6 feet from your home to prevent most pests from easily entering.
Once cracks and gaps have been identified, the professional is able to make specific recommendations. First of all, do you already have a wildlife problem? If so, it is vital that the animals are not sealed into your home!
A pest and wildlife professional knows the seasons and rules for the safe removal of wildlife such as bats. Baby animals need to be allowed to mature enough to get outside the structure on their own before total exclusion is done. This process takes patience but is necessary. Sealing the animals inside is not the answer, and Canton Termite makes every effort to remove and safely rehome the captured animals. So what about those who are difficult to catch? Are you doomed to host the neighborhood squirrel reunion indefinitely? The answer is no!
The goal is to seal up all but the currently used entry points and there to place a one-way device that will allow the animal to get out but not back inside. This means the traps must be checked often and is a time-consuming effort for the technician. Once we have safely removed the wildlife, the traps are removed and the final gaps are sealed against future invasion.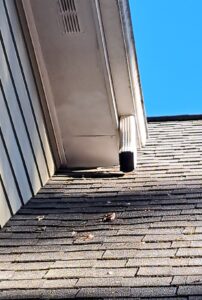 Now we move on to the how of this wildlife scenario. The products used in exclusion can range from caulking to galvanized metal flashing to woven hardware cloth and are specifically chosen for the unique need of your home. It is important to remember that some building materials are created to allow airflow, water drainage, and certain movements in the building. Completely sealing can, in some scenarios, cause different and equally destructive problems such as moisture issues. In these cases, the professional knows to use water-permeable materials for areas such as weep holes and materials that "breathe" around soffits and ridge vents. Woven hardware cloth is an example of a breathable material that is often used on air vents.
Exclusion is an efficient means of preventing future pest and wildlife problems as well as correcting any current infestations. It is a detailed and specific service that Canton Termite offers to our community. Because of the time and level of difficulty involved, as well as the knowledge and experience involved in making the effort successful, the exclusion is not always a "cheap" fix; however, it is a worthwhile fix. The costs vary so giving an over-the-phone estimate is rarely possible. What we can promise you is a thorough and completely free inspection followed by an honest appraisal by the hometown, family-owned company you've come to trust.
Canton Termite is here for your wildlife needs.
Give us a call today at 770-479-1598.
By: Robin
Home Wildlife Control, Rats and Mice