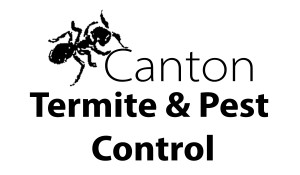 December 2017
General Update
It has been a busy month here at Canton Termite and Pest Control. We have seen both an increase in pest activity as well as greater needs for home inspections due to new developments and real estate transactions.
As always, we remain committed to providing you top of the line pest control service. Above all, we are in the business of keeping you pest free. To help facilitate this, we wanted to provide you, our customer, with a short update newsletter to let you know what we have been doing and our planned operations for the near future.
Beyond this, you should also be on the lookout for specials and
deals that we will be offering this season. Some of these will be included in the newsletter, but others may be on the way in the near future!
It is a high priority for us to remain accessible to our customer base so that we can provide support, expert pest advice, and other services to you as quickly as possible. As such, if you have any questions whatsoever, please feel free to contact us by phone, email, or through our website and social media pages!
Recent Pest Activity
It's no secret that the temperature and other seasonal conditions have an impact on pest activity. Different types of pests are significantly more active at certain times of the year, and homeowners need to be informed of potential threats they should be on the lookout for.
Pests to look out for
Homeowners BEWARE! As temperatures begin to fall, many types of outdoor pests increasingly invade homes seeking a warm, safe environment for the winter months.
These pests can cause a variety of different problems and can cause expensive damage to the exterior structure, insulation, and wiring of the home. As such, it is critical to identify their activity as early as possible!
Pest Watch
We have had a busy month dealing with a wide variety of different pests. To help homeowners be better prepared for the types of pests that they may encounter, we publish short articles each week on our website giving you the inside scoop on how different pests operate. Below you will find short summaries of some of these articles. If you are interested in finding out more, check out our website!
Bed Bugs on Planes!
Most homeowners are already aware of the expense and frustration that a bed bug infestation in your home can bring. You would be correct in thinking that, true to their name, bed bugs most often infest mattresses. However, the truth is, bed bugs can infest almost anywhere with correct environmental conditions access to a live host.
So the question is, how do you keep yourself safe from bed bugs during travel? Check out our website for tips and tricks to help reduce your chances of picking up bed bugs
Pharaoh Ants
Pharaoh ants are a type of pest that homeowners may not commonly be aware of. However, if you are an owner of a hospital or other business, it is possible that you have heard of these destructive pests.
Pharaoh ants often enter structures during the winter due to their attraction to artificial warmth. Once inside, they can cause mayhem by spreading throughout the structure, spreading contaminants, and infiltrating food stores. Dealing with these tiny troublemakers requires a specialized treatment approach. If you are concerned about the threat of Pharaoh ants, check out our website for the full guide to these pests.
German Roaches
A roach infestation is a nightmare for most homeowners. The fact is, roaches are an unpleasant and destructive pest, and as a responsible homeowner you are probably very anxious to ensure that your home remains roach free. Unfortunately, there are several popular misconceptions about roaches, especially when it comes to how and why they enter your home. The truth is, any structure, regardless of how new or clean it is, can be at risk for a roach infestation.
To find out more about German roaches and how to keep cockroaches out of your home. Check out our detailed post on German roaches here.
House Mice
As the weather grows colder, homeowners may begin to see an uptick in wildlife pest activity on their properties. These pests are often attracted to the warmth and food inside homes, and they will often attempt to establish nesting sites in attics, basements, and other secluded areas.
To prevent these damaging pests from causing you significant frustration and expense, it is critical to detect their presence early. If you are concerned about potential wildlife activity in your home. Call us today and schedule a FREE wildlife inspection!
Call Today 770-479-1598!
By: Tim