Thank you, Team!
If you don't mind, I want to take a minute to shamelessly brag about my team.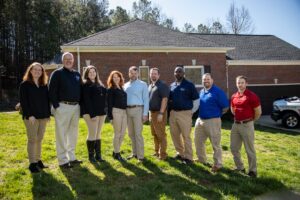 The past few months have been challenging for everyone. The pandemic and resulting quarantine were disruptive to us all personally, socially, and professionally.
As soon as the shutdown began, I knew that the road ahead would be challenging. As an essential service, Canton Termite and Pest Control needed to remain active and ready for anything.
However, new risks and requirements made that task all the more challenging. We were entering uncharted territory like nothing I had seen in my decades of working experience. To be frank, the fear of mistakes or misjudgments kept me up at night.
Performing our work with excellence while also protecting the safety of our team and customers was and continues to be a monumental task. One that I could not do alone.
Fortunately, I didn't have to, because I have the best team in the world working with me.
I know that every leader in every industry claims to have the best team. But honestly, there's just no other way to put it.
My team rose to the occasion, tackling every challenge with diligence and excellence. They truly went above and beyond my highest expectations.
They were not deterred by the challenges and risks brought on by the pandemic, working beside me to create a safe and effective treatment plan that maximized safety while maintaining the same level of results.
Our office staff worked tirelessly to maximize efficiency and ensure that we were up-to-date on the latest guidelines from experts and government authorities.
The field team followed every safety instruction perfectly, minimizing the risk of exposure and carrying out their duties without complaint. Even on hot, long days, each and every one of them kept a smile on their face( Not that you could see it with there face mask on 🙂
To my team, it is difficult to express in words the gratitude I have for your hard work. You have risen to every challenge and overcome every obstacle. Your excellence is an inspiration to me.
It is an incredible honor to be able to lead such incredible people. Thank you for your diligence, your talents, and your trust in me.
To our customers, THIS is what a hometown pest control company looks like. We're more than a team, we're a family.
The excellent service that Canton Termite and Pest Control brings is a product of the hard work of each and every member of my team. Without them, none of this would be possible.
It is, and always will be, an honor and a privilege to serve you.
Challenges are still ahead on the road. We are still in the midst of a pandemic, and safety is more important than ever.
I am confident, however, that the Canton Termite and Pest Control team will overcome each and every challenge, continuing to provide the highest caliber of service as we have always done.
So the next time you see your termite tech, please thank them. They truly are some of the best men and women I have ever had the pleasure to work with.
-Tim McWhirter, President