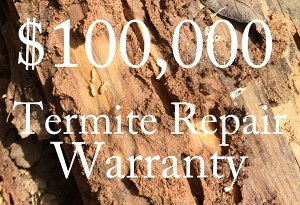 A Termite Bond is in reality a warranty from a pest control company. Some bonds cover retreatment and some cover retreatment plus the repair of termite damage. At one time, during the 1970's, Pest Control companies would put money with a bail bond agent. That's right, just like getting out of jail!
This is where the term Termite Bond started.
The pest company might put up $25,000 or more for the bond company to hold. In this way, the pest company would be able to print paperwork stating coverage value of $25,000 Bond. This approach worked well as long as the companies' damage claims never exceeded the value of the bond. But what would happen if several of that pest company's customers were to try recover money for the repair if termite damage? Remember there is only $25,000 total that can be claimed.
Today most pest control companies purchase liability insurance that will pay for any necessary repairs.
This coverage comes at an extra cost, so be sure you read your service order carefully. Most warranties cover termite retreatment cost but may not cover the damage termites can cause. The warranty will, like most insurance policies, have a deductible. Also some areas of the structure, or certain building materials may be excluded. Despite some shortcomings, a Warranty is a good investment to protect your home from any damage insects might cause to it.
At Canton Termite and Pest Control, we offer a repair Warranty (Bond) that will cover your home for repairs of up to $100,000 dollars.
Also our warranty does NOT have an annoying deductible, like most other pest control companies do.
If you have a question about termite protection…or any other pest question or problem….sall Canton Termite and Pest Control Today at 770-479-1598 for a FREE Inspection and Estimate.
And be sure to ask for me, Tim McWhirter, owner/president. I'll be happy to speak with you!
Termite Bond in Cherokee County Georgia