You Are Here Because You Are Concerned About Termites!
Watch My Video Below To Learn How I Can Help Now!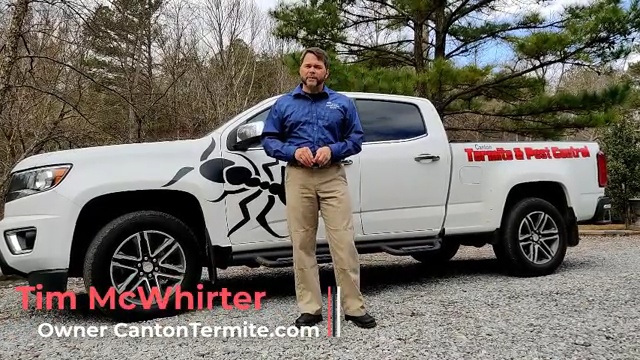 Hi, I'm Tom with Canton Termite and Pest Control. If you're watching this, it's probably because you need a termite inspection or a termite service. subterranean termites do more than $5 billion worth of damage to homes just like yours every year in the US. So don't wait. Call today for free and spacious, we'd be happy to help you with your termite situation and protect your home. Don't forget to mention this ad and you get 5% off your initial service.
Faith Hope
25. August, 2022.
I would highly recommend Canton termite and pest control. Ed was awesome to listen to my fly issue several phone calls and he was so patient. Overall great manager! The tech, Dwayne was awesome, took his time explaining the details and helping me find the cause of the issue, have suggestions. Great experience and I'm so glad I changed to this company. Tara
Shelley McNellie
25. August, 2022.
We had our first appointment with Canton Termite and Pest control yesterday, and I could not have been more impressed. Our technician Dwayne Epps was so knowledgeable about what he was doing and took the time to explain every step of the process with me. He was professional and made sure that I understood everything he was doing as he was doing it. We had been using another company for the past several years and they were never as thorough as he was on the first visit. I am very impressed, and I'm happy to have found this company!
Joseph Raniere Jr
11. August, 2022.
It was our first time using the service and Dwayne was phenomenal in explaining the service, company policy and overall explanation of many species of insects. Highly recommend!
sgtlewisbond
5. August, 2022.
Dwayne is a excellent pest control service person. I would highly recommend and ask for Dwayne and ask for Dwayne . Absolutely five star rating.
Carlos Lopez
4. August, 2022.
Great Mom & Pop business, which is why I seek them out first. I called for termite inspection and Jennifer answered. Jennifer is kind, professional, courteous and took time to listen to my needs and concerns. William the inspector is courteous, professional, knowledgeable, honest and also took time to listen to my concerns and needs. My home didn't have active termites but the estimate to treat was reasonable and fair price I went ahead and scheduled their service. In addition, treatment comes with a transferable bond. Two thumbs up 👍 👍
Wendy Wade
9. July, 2022.
I never knew an appointment for pest control could be so entertaining and educational! Nic Alday not only knows his bugs, but he is funny, dedicated, honest and thorough! I highly recommend Canton Termite & Pest Control 💯
Mary Beth Nase
29. June, 2022.
Today we grateful for Mr. Brent! He listened to our concerns and addressed them for us! We appreciate his time, effort, and attention to detail. Thank you Canton Termite and Pest Control and Mr. Brent!!
Miliza Whitfield
27. June, 2022.
I called in about our concern and Jennifer was able to send William out to our property a few hours later! William applied a treatment, explained the process and what to expect over the next few days.
STLintheATL
21. June, 2022.
We have been using their services for over a year now and have been very happy with the services. Today, William came out to discuss a problem we were having with chipmunks and gave us some advice and a quote. My wife was a little emotional about the process and William took the time to explain it and made her feel at ease and was so kind and considerate and it was greatly appreciated the extra mile he went this morning. It was truly a blessing to us. Thank you William!
Donna Milley
16. June, 2022.
We've always had great experiences & service with Canton, and yesterday's service call was extra-exceptional! We had some extra issues to deal with concerning carpenter bees making holes in some wooded areas of our house, and woodpeckers that began enlarging the bee holes looking for larvae. Dwayne Epps went above & beyond the usual service he was here for. Not only is he personable, friendly, and knowledgeable, but he provided greatly appreciated additional help & advice. Many thanks to Tim McWhirter & his skilled, personable team, which Dwayne is a valued member of.