You Are Here Because You Are Concerned About Termites!
Watch My Video Below To Learn How I Can Help Now!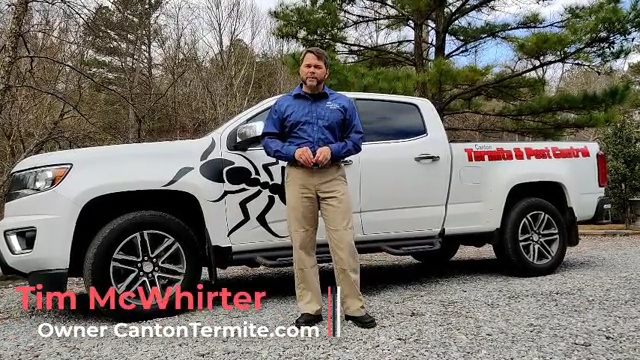 Hi, I'm Tom with Canton Termite and Pest Control. If you're watching this, it's probably because you need a termite inspection or a termite service. subterranean termites do more than $5 billion worth of damage to homes just like yours every year in the US. So don't wait. Call today for free and spacious, we'd be happy to help you with your termite situation and protect your home. Don't forget to mention this ad and you get 5% off your initial service.
Updated 7/9/2021 It's not always fun living by a wooded area, snakes, bugs, wasps, that being said.....thank goodness for Canton Pest Control. Today Nic came out and sprayed a yellow jacket nest for us. YAY! Thank you again for such great service! (P.S. a thank you to Dwayne for showing us how to find the yellow jacket nests in the ground) Updated 6/18/2021 Today Nick came out for our quarterly service, super nice guy and was so patient to explain about the scorpions, snakes and other fun things in my yard! I could not be happier with Nick and Canton Termite & Pest Control. We have trouble with wasps, Dwayne came out and checked everything for us. He told us how to watch for yellow jacket nests and carpenter bees. He was professional, patient & informative. We could not be happier with Canton Termite & Pest Control.
I highly recommend Canton Termite and Pest Control. Nic came out and treated a yellow jacket nest for us - He's much braver than I'll ever be! Nic is knowledgeable, funny, and really nice to work with. He deserves a raise after today!
Justin Hubbard
2021-07-08
Couldn't be happier with my first treatment today. Shoutout to my man Dwayne who was not only very thorough in his treatment but didn't hesitate to explain what and why he was doing everything he was doing! Great job.
Anastacia Parham
2021-07-08
We got fridge for free, didn't know it was infested with roaches . Dwayne Epps is our man . Came out promptly and serviced ours needs with professionalism ,kindness . Answering any and all questions I had . Very fast , no smelly spray fumes ! A couple of treatments and the roaches were gone Thank you Canton termite
Tenille Coleman
2021-06-03
William is the best! He did a fantastic job for us for 5 years, at our past home in Canton. He is very responsive and professional. We NEVER had an issue with bugs, and that made me one happy woman!!
Since moving to GA over four years ago we have had CT&PC 'minding our home'. All the staff members with whom we have interacted have been very professional and extremely nice people. We are disappointed to lose Jacob as our technician as he has been promoted (whatever took them so long ???) however, we are absolutely certain that whoever replaces him will surely 'fill his shoes'. Thank you CT&PC!
I recently had William from Canton Termite & pest control out to my home for help with a bat issue. William came out the same day and on time. He performed what was the most complete/ thorough free inspection that i ever had. William was very knowledgeable, professional and friendly. He showed me where the issue was in my home and how to resolve it. I will be calling these folks back for any other pest/ insect issues that i may have. I highly recommend them. Thanks William!
Lauren Godfrey
2021-05-15
Great experience setting up new mosquito service! Better pricing than our previous company. William was very knowledgeable and professional. Not pushy for additional services. Would highly recommend.
Caitlin Schoemmell
2021-05-12
Nothing but good things to say about Canton Pest Control! They took care of my German Roach problem in just a few treatments and kept pests away with regular service. The only reason I'm not using them anymore is because I'm moving out of state. Highly recommend to anyone around!
A BIG thank you to Nic! He is professional, courteous and extremely knowledgeable. I had a snake on my property and not only did he remove the snake for me, he taught me a lot about snakes as well, which put my mind more at ease. I always get a lesson when Nic comes around and I love that. It shows he loves his job and is passionate about wildlife. Outstanding service and answered all my questions. Highly recommend!