You Are Here Because You Are Concerned About Termites!
Watch My Video Below To Learn How I Can Help Now!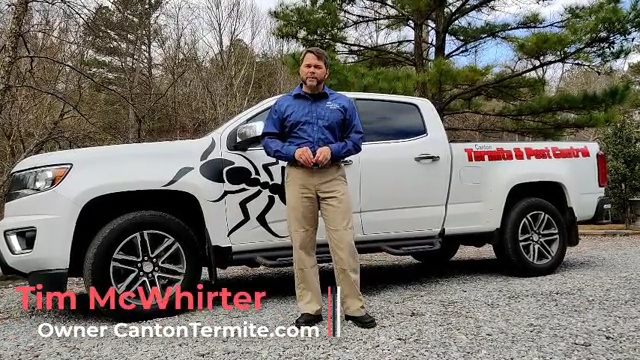 Hi, I'm Tom with Canton Termite and Pest Control. If you're watching this, it's probably because you need a termite inspection or a termite service. subterranean termites do more than $5 billion worth of damage to homes just like yours every year in the US. So don't wait. Call today for free and spacious, we'd be happy to help you with your termite situation and protect your home. Don't forget to mention this ad and you get 5% off your initial service.
I have been using Canton Pest Control for over four years. They are always friendly and knowledgeable, and have gone above and beyond to provide excellent customer service. They work around my schedule for appointments and are able to come out quickly if I have an issue, they always arrive on time, and make sure to treat any problem areas with extra attention. During the sale of my house Tim went the extra mile to ensure I had termite protection that is documented and transferable. He provided a service well beyond what I requested and I'm so grateful for the generous support he gave me to make sure any questions from other inspectors were answered. I can't thank Tim and the folks at Canton Pest enough and highly recommend them!
My service tech Johnathan was very professional and went above and beyond. He even blew leaves off my back deck so he can make sure he got to everything. The owner made the original visit in person and I feel very comfortable with this company.
Sharon Padgett
2020-10-06
William Botts was very professional and went above and beyond what I could have asked for. Very professional
Mitchell Olson
2020-10-05
Have had Canton Termite and Pest almost a year now. They've been amazing. Super responsive, flexible and safe (especially during COVID). Customer service is great and technicians are prompt and thorough and knowledgeable. Service is affordable, treatments are pet- and child-friendly. Also, just had a long chat with one of the techs, Dwayne Epps, about renewing termite bond and the process, etc. He was incredibly informative and direct about the service and recommendations, like process, treatments, best timing and protection. Can't remove me this local business enough!
I'm very thankful for the information I received over the phone from Mr. Ed. He returned my voicemail within an hour! - Rachel
We have been dealing with Tim and his associates for a number of years and highly recommend them for any of the services they provide. We had flying squirrels get in the house; they stopped them. They have been doing our termite treatment and inspections for several years. Today we had Brent and his associate Duane do a termite retreatment of our home. They give us first class, quality services at a fair price. We highly recommend them.
Connie Roberts
2020-08-23
We had a huge European hornet nest in a large hollow cedar tree in our cow pasture. The tree was located next to our cattle work pen and water trough with several nest entry points about 5 - 8 feet high. It's location posed a serious hazard to us, our cattle and neighbors. William Botts, our pest control technician, was great. He was prompt, courteous, knowledgeable and professional. The hornets were treated and gone! I highly recommend William and Canton Termite and Pest Control.
I chose Canton termite and pest because I was tired of of the big chains and the hard sell that often comes with using them. During the scheduling, it became clear I made the correct choice. Not only were they friendly, professional there was no hard sell or long-term contacts. A day later Dwayne came to spray. Dwyane was friendly, professional, and happily answered all my questions, at no time did I feel rushed or pushed aside so he could get to another call. Dwyane and Canton Pest treated me like a valued customer gave me the personal service that many businesses lack.