You Are Here Because You Are Concerned About Termites!
Watch My Video Below To Learn How I Can Help Now!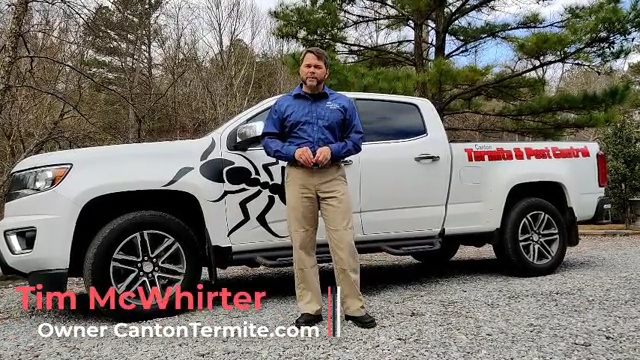 Hi, I'm Tom with Canton Termite and Pest Control. If you're watching this, it's probably because you need a termite inspection or a termite service. subterranean termites do more than $5 billion worth of damage to homes just like yours every year in the US. So don't wait. Call today for free and spacious, we'd be happy to help you with your termite situation and protect your home. Don't forget to mention this ad and you get 5% off your initial service.
Mary Beth Nase
2022-06-29
Today we grateful for Mr. Brent! He listened to our concerns and addressed them for us! We appreciate his time, effort, and attention to detail. Thank you Canton Termite and Pest Control and Mr. Brent!!
Miliza Whitfield
2022-06-27
I called in about our concern and Jennifer was able to send William out to our property a few hours later! William applied a treatment, explained the process and what to expect over the next few days.
We have been using their services for over a year now and have been very happy with the services. Today, William came out to discuss a problem we were having with chipmunks and gave us some advice and a quote. My wife was a little emotional about the process and William took the time to explain it and made her feel at ease and was so kind and considerate and it was greatly appreciated the extra mile he went this morning. It was truly a blessing to us. Thank you William!
We've always had great experiences & service with Canton, and yesterday's service call was extra-exceptional! We had some extra issues to deal with concerning carpenter bees making holes in some wooded areas of our house, and woodpeckers that began enlarging the bee holes looking for larvae. Dwayne Epps went above & beyond the usual service he was here for. Not only is he personable, friendly, and knowledgeable, but he provided greatly appreciated additional help & advice. Many thanks to Tim McWhirter & his skilled, personable team, which Dwayne is a valued member of.
We had a horrible cockroach infestation that followed us from our previous apartment to our new house. After having no success treating it from another company, we were so happy to find Canton Pest Control. Dwayne was AWESOME and so knowledgeable. He actually cares about the jobs he does and is excited about them. They were able to knock them out within 3 months of the first treatment, which my previous company had spent a year trying to fix. I'm happy to say we no longer see any roaches in our house and if we do, I will be calling them back to take care of it!
Nick came out today to assess our little mouse situation. Nice guy, very knowledgeable, friendly conversation, great tips and tricks, and overall very helpful. 10/10, would highly recommend! ⭐
Jennifer Fiske
2022-03-30
Dwayne Epps was so informative and helpful ,along with being kind! ,this was my first time using Canton Termite and Pest Control and I highly recommend them !
We have been on their annual plan for over two years now and never had a bug problem. Their customer support is incredible, great communication as to when they will be stopping by and their technicians are extremely professional. Nic especially went above and beyond in his more recent visit to our house. We will be customers for a long time
Keith Henderson
2022-01-03
Brent and Jacob showed up at our house at 8:00am on January 3rd, 32 degrees outside and the wind was howling. They both made a special effort to introduce themselves and explain what they planned to do. Never once did either complain about the weather. They quickly set up to work. They were done before I knew it with a complete termite treatment. Tim (the owner) stopped by while the guys were here and provided me all the paperwork and we had a nice conversation about the area and shared that both of our power was out from the prior nights winter storm. These guys are great. I would not hesitate to recommend them to anyone looking for pest control services.